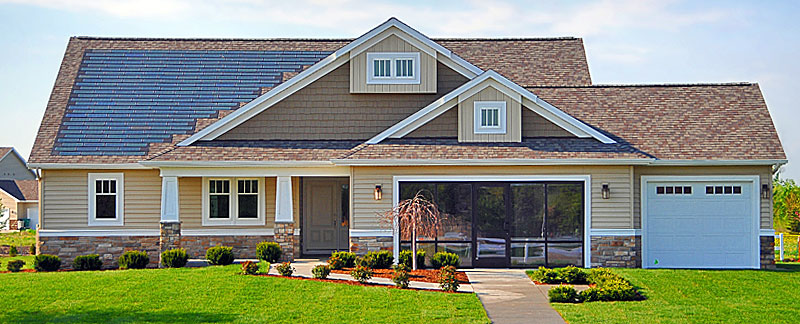 Michigan's First Zero Energy Home — Vision Zero
3118 Summerhill Lane, Bay City

Style: Ranch
Bedrooms: 3
Square Footage: 1,752
Bathrooms: 2
The Vision Zero home, built in collaboration with the Dow Chemical Company, was Michigan's first Net Zero Energy Home. It was the first house in the United States to feature Dow Powerhouse Solar Shingles. For a virtual tour of the Vision Zero home, click here.
What is a Zero Energy Home?
Although it looks like most homes, and it's connected to the utility grid, a ZEH (Zero Energy Home) is significantly different than other houses. Unlike other homes, over the course of a year, the ZEH produces about as much energy as it consumes. This "net zero" consumption level is accomplished through the combination of energy-efficient construction and the home's renewable energy technology.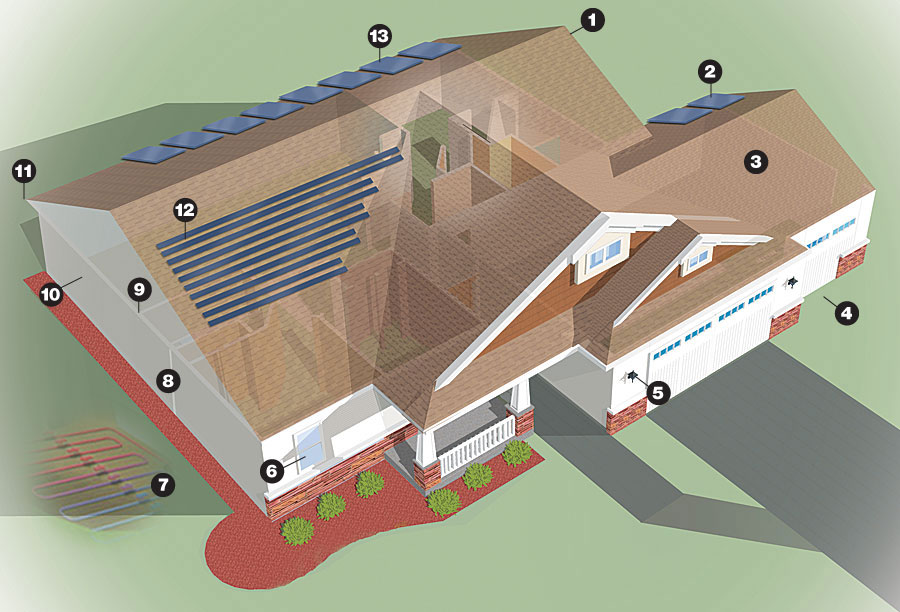 1 - Dow Structural Insulated Sheathing (SIS) on exterior walls
2 - Enerworks Solar Panels for water heating
3 - Dow Closed Cell Rigid Spray Foam & Blown-in Cellulose inside attic
4 - Basement ERV System (Energy Recovery Ventilation System for mechanical ventilation)
Greywater Heat Recovery Unit
Dow Tongue & Groove Styrofoam (Under basement floor)
Dow Perimate Insulation (Exterior basement wall board)
5 - Energy Efficient Lighting by Kichler and Juno (Compact Fluorescent Lighting Throughout)
6 - Low-E Glass, Paradigm Triple Pane w/Krypton Gas (On all windows)
7 - WaterFurnace Geothermal Heating & Cooling is buried in the earth, ground source heat pumps harness the earth's constant temperature to heat in winter and cool in summer.
8 - Utility Meter spins backwards when solar power exceeds house demand selling power back to the utility company
9 - Closed Cell Rigid Spray Foam inside wall cavity
10 - Tongue & Groove Styrofoam in exterior walls
11 - Thirty inch overhang manages solar heat gain
12 - Dow Powerhouse Solar Shingles
13 - Energy Generating Solar Panels made with Dow Corning components