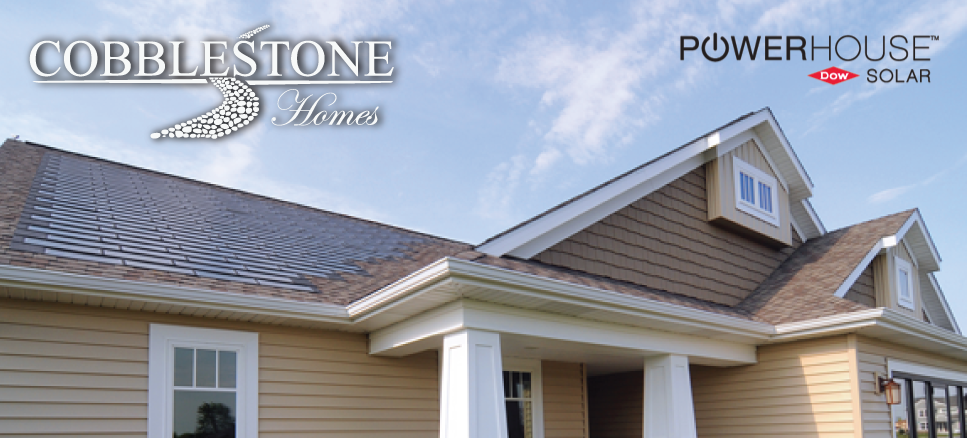 In 2010, Cobblestone Homes built the nation's first home to feature DOW POWERHOUSE Solar Shingles. Now, we're the only Michigan builder authorized by Dow to offer the solar shingles on new homes.
If you're ready to be among the first in the nation to usher in the Solar Era, Cobblestone Homes is your homebuilder. The time has come: The roof, reinvented.
DOW POWERHOUSE Solar Shingles are now available in Michigan exclusively through Cobblestone Homes for new home construction. We are featuring the maintenance-free, first-of-its-kind solar roofing shingle on our new models.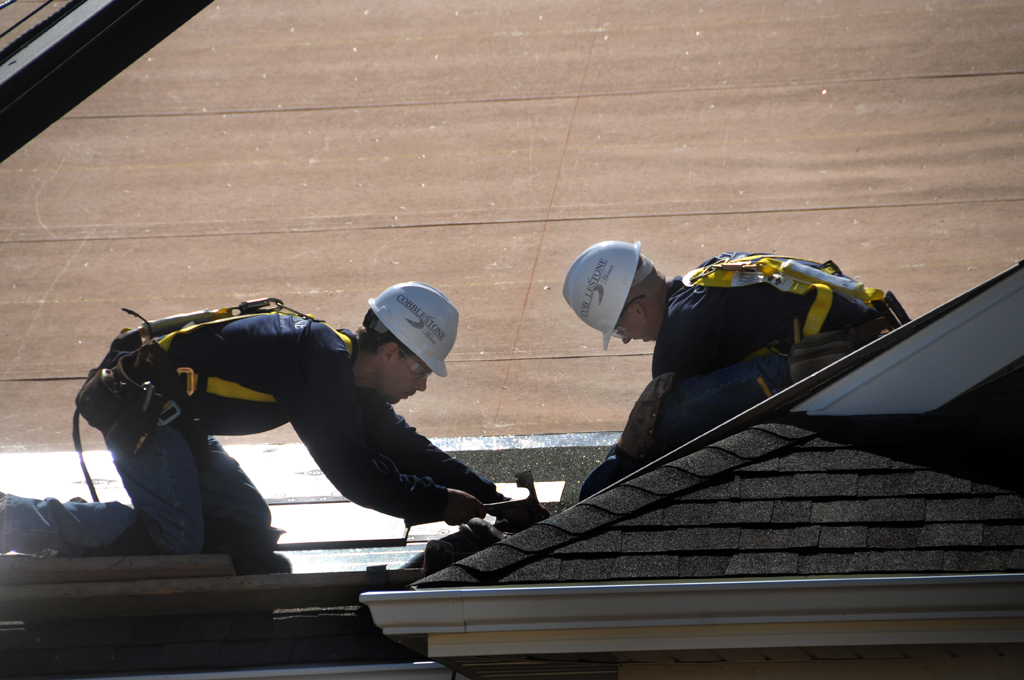 Cobblestone Homes workers install DOW POWERHOUSE Solar Shingles on the Vision Zero home in Bay City, the nation's first home to feature the solar shingles.
Power to the People
POWERHOUSE Solar Shingles are part of a residential solar roofing system that functions and protects like a standard shingle but also has embedded solar cells to power your Cobblestone Home.
In addition to the shingles, the POWERHOUSE system includes an inverter to convert the solar-generated DC current into usable AC current, and an in-home monitoring system and online dashboard that show how much energy the shingles are generating and how much your home is consuming.
Green and Clean
Solar is the fastest-growing energy source in the world, promoting a cleaner environment, reduced dependence on imported fossil fuels, diversity of power sources, relief from volatile energy prices, more jobs and greater domestic economic development. POWERHOUSE Solar Shingles are made right here in mid-Michigan!
Reap the Rewards
When you build a Cobblestone Home with a POWERHOUSE roof, you will generate immediate savings and start receiving a return on your investment from the day we give you the keys to your new home. You'll reduce your overall cost of homeownership and generate unprecedented financial returns with an investment in your roof, all while reducing your carbon footprint. Plus, your Cobblestone Home will qualify for a federal tax credit and other incentives.
Get Started Today
Cobblestone Homes has been building high-performance, energy-efficient homes for years. Building homes that can conveniently produce their own electricity with a product that looks great and helps homeowners save money? That just makes sense. When you're ready to build a home with DOW POWERHOUSE Solar Shingles, we're your Michigan connection. Contact us today to get started.